Targeting your ideal customer to improve your investment in advertising
What is the ideal customer?
We can all think of many different people who could fit our scheme of the 'ideal customer' as we serve many demographics each day, many businsses don't truly know who their ideal target customer is.
When it comes to advertising, widening your reach increases your costs exponentially with a lesser return than being specific, this is why it's always communicated to people that they should target a specific niche.
Let's say, it costs $0.01 per engagement and you have an e-commerce store that sells items for people who love Pugs.
You could advertise to a group of people who love animals, perhaps 0.05% of engagements complete your sales funnel and make a purchase from your store, it would cost you $20 per sale.
If you were to target people who love dogs you might get a 0.4% sale rate per engagement, meaning it costs you $5 per sale, or you could get more specific, targeting people who love pugs and get a 1% sale rate per engagement, costing only $1 per sale and therefore maximizing your return on investment for your advertisement.
The ideal customer is a very small niche group of people who give you the greatest return on your advertising investment as you try and reach them.
Draw Your Customer
Get an outline of your customer or even draw a stick figure, make sure you have plenty of space and start creating your ideal customer, be detailed.
Write down every detail about them as if they're the main character in the story of your business, here's a series of questions you could use to help you.
Where do they live?
What's their gender?
What ethnicity are they?
What's their income bracket?
What languages do they speak?
What sports do they participate in?
Are they married?
Do they have kids?
What industry are they in?
Do they travel often?
Do they invest their money or spend it liberally?
Which celebrities do they follow?
Which political party do they support?
The more questions you can think of for your ideal customer, the more specific you can be with your advertising.
If you need some help, all of Facebook's advertising options are listed below and could help with ideas.
Testing with Facebook
Facebook is the largest social media platform in the world with almost 2 billion users so it's a great place to test your character profiles, I'll be setting up an advertisement on Facebook to target my 'ideal customer'.
For this we'll set up a campaign with an objective of generating traffic so you know they're genuinely interested in what you're offering.
Step 2
We need to narrow our target audience down as we currently have an audience of 16,000,000 people in Australia as we can see from this image.
With targeting Brisbane, we're able to specify the location and then we add a series of requirements, being that they must have an income between $80,000 – $150,000, be interested in business or advertising and their job title must be one of the variations of owner.
This would target owners of small to medium sized companies who are interested in growing their company and provides less than 2,500 possible people who the advertisement would be shown to.
This provides you with the most likely people to purchase your product/service and maximizes your return on investment.
Test who your customer is
Klenex was originally made for single use make up wipes but after a bit of market research on why their product was being purchased, they discovered they were often being used as disposable tissues for sickness.
Klenex re-branded their product to cater towards people who had a cold and saw a 300% increase in sales on the same advertising budget.
You should test who your customer really is, create a series of 'ideal customer' figures and set up an advertisement for each group, allowing each to run for the same amount of time on the same budget.
You will see which group gives the greatest response to your advertisement and they're likely your ideal customer, giving the greatest return on your advertising investment.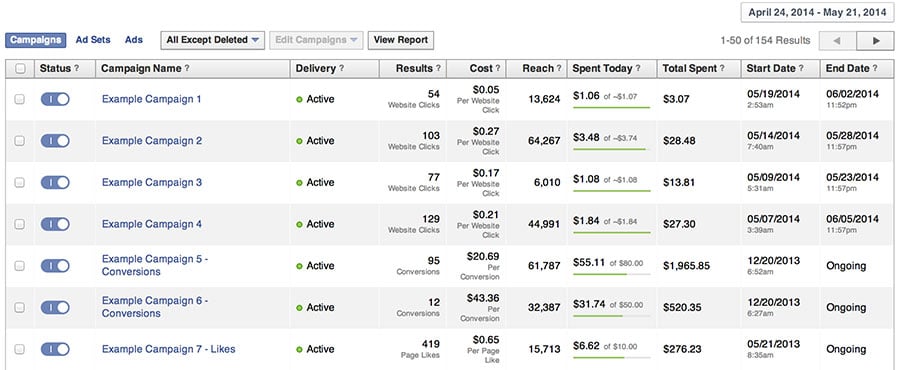 Conclusion
Targeting the ideal customer is incredibly important when you're needing the best return on investment for your advertising dollars, make sure you achieve this by creating multiple ideal customer profiles and testing them.
Once you've figured out which audience provides you with the most sales, try improving your conversion rates with AB testing to improve your profits even more.
Subscribe to our email list or follow us on social media for more help with growing your business online