What is SEO?
Search Engines try to provide the most relevant information. To do so, they find keywords on websites that match what the user is looking for. This is a lot more complex than it sounds however as there are over 3 million pages created per day.
SEO is the organic ranking (non-paid) on search engines such as google. Good SEO will place you at the top of search engines for relevant searches. The other way to get to the top is through marketing campaigns where you pay for every click.
The problem is that for you to be found in this way the user already needs to be looking for you and that's severely going to limit the amount of market you appear to.
Instead you want to show up as the customer is searching for terms relevant to your business, also known as keywords.
Here's an example of Entrepreneur.com showing up when the user searches "How to increase customers online for my website".
Being found where the customer is searching exposes you to new customers and massively increases your online potential, either making or breaking businesses most of the time.
The problem with SEO
There are over 200 factors that affect SEO but the top factors that are well known are for good reason.
Search Engine Optimization is a popularity contest. You need to be linked to and referenced by other sites in order for search engines to recognize you as a credible source. This is done according to your relevant keywords which increase the rate at which you show up.
Not all links are equal. Links from more recognized sites have a greater impact on SEO than smaller ones. Some links can actually be picked up as spam and google will therefore penalize your SEO. This can also be used against you as 'negative SEO'. Luckily there are tools available for removing these links against you.
Blackhat Vs. Whitehat SEO
When you discover that more links and keywords means more traffic to your website, you're likely to try and get as much as you can. This often involves aggressive SEO tactics that aren't naturally occurring.
These include paying for links instead of them being naturally linked to in context.
Blackhat SEO gives a quick reward to your site but like caffeine to a person, the come down can be significant and in SEO cases, can often get you removed from Search Engines altogether. Therefore Blackhat SEO is not a good way to grow a business if you want it to last and therefore we don't cover it.
White Hat SEO Methods
There are hundreds of factors that affect Search Engine Optimization and google keeps them a close guarded secret but we cover the main points that will have the biggest impact here.
On-site Factors:
Although SEO is a popularity contest, it all starts with making sure your site is relevant, optimized and worth linking to.
Follow these steps for making the most of your on-site SEO.
content
Search Engines try and deliver the most relevant and trustworthy information for what is being searched for. This means that if somebody searches for "Where can I buy shoes in London?" the top results will be trusted pages that answer that question.
Therefore your first job with your website is to write good content that people will want to read and makes sense to google.
There is a whole field of marketing delegated to this called 'Content Marketing' and you'll find searches returning a number of blog posts as they are an easy way to answer questions your visitors might have such as the search above.
Kissmetrics gives a good guide to writing content for your blog.
Keywords
When machines are searching for anything they look for keywords to provide relevant information.
When we searched "Where can I buy shoes in London?" google picked out the keywords 'buy shoes London' and you can see these words and synonyms highlighted in the results.
Using relevant keywords in your content and headers is the most important factor for on-page SEO as it's how you'll get found as people are searching.
An excellent tool for finding keywords for your content is Google Keyword Planner which will give you information about how many people are searching for particular keywords.
An excellent way to start with content marketing is to focus using Long Tail Keywords as there's less competition around them.
Fresh Content
Search engines like sites that are keeping up to date, especially since we live in a world where things change so rapidly.
Hubspot created an in-depth benchmark that shows posting frequently helps to achieve a high ranking on google.
HTML
HTML stands for Hyper-text Markup Language and is the base language of the internet.
You don't have to be an expert in coding to get great SEO from your website but you do need to have good structure. You can either learn it yourself through sites like Codeacademy, use this simple cheat sheet or hire a developer to ensure good site structure for you.
Most sites are built on platforms such as WordPress which have plugins like Yoast making it easy for anybody to give themselves good html structure for SEO.
The most important tags to understand for Search Engines are:
Title tags which are the name of a web page when you search for it.
Meta description Which is the excerpt when Google displays your page and is shown underneath the title.
Alt Text is used so search engines actually have an idea of what an image is since they cannot see them. Alt text is also important for appearing in an images search.
These three factors are highly important as they're picked up as an explanation to search engines defining what your site is about.

Site Structure
Search Engines use something called a 'crawler' to search the internet and index the pages it comes across. Therefore you need to make it easy to navigate your site and essentially create a map of it for search engines to display.
Make sure you can access all your pages by following links through your site and have the most important pages linked from the home page and navigation bar.
You can help google index your page by submitting an XML sitemap to google which is like a road map to help it navigate. This is the easiest way to gain some significant SEO points.
I use free software from Screaming Frog to generate sitemaps and then upload them to google.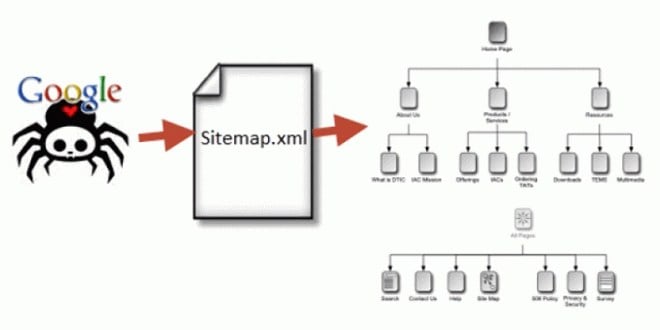 Mobile Friendly
Over 60% of internet users are searching on mobile devices. Over half a billion people use Facebook only through a mobile device on a daily basis.
Upon recognizing this, search engines have made mobile responsiveness a significant factor for ranking.
If you're not certain if your site is mobile responsive, use this google tool to check.
Authority
Trust is a big factor in search engine ranking and once everything has been optimized on-site, google still needs to know you're trustworthy.
This is done by building relevant links, trustworthy links to your site, making you look like someone people turn to in your field.
There are two types of authority:
Domain Authority: How well your domain is recognized across the internet.
Page Authority: How well content of a single page is recognized.
Use these tips to easily improve your authority ranking.
Bounce Rate
Bounce rate is the percentage of visitors that come to your website and leave after a few seconds on a single page. A high bounce rate tells google that your content might not actually be what they're looking for and you should rank lower.
Having a low bounce rate is important for being a trusted source in a field.
Links
By this point you'll realise there's a lot more to SEO than just getting links but they are still an integral part of getting high ranking spots.
To gain links you should start by creating high quality content as mentioned above. This will make people want to link to it, but you shouldn't just sit and wait, you should proactively go for links.
There are some things to consider when getting backlinks though:
Quality of Links
"All animals are equal but some animals are more equal than others" – George Orwell.
A quote which is especially true in the case of links as a few high quality links from more trusted domains are worth a lot more than many low quality links from lesser known domains.
Building quality links is about providing high quality content that authoritative sites link to, a good way to start with this is by fixing broken links.
Anchor Text
Anchor text is the text used to link websites. You've seen many of them on this page already.
The best anchor texts are links that flow naturally within the text such as the link in this sentence compared to a link that doesn't fit like "Click here".
Personal Relevance
Search Engines give the most relevant information they can and that includes taking into account your location, browsing history and social circles.
For example, as I'm writing this I am on the Gold Coast, Australia and I googled 'The Hilton'. Although there are hundreds of Hilton Hotels, it gave me information relevant to my location and showed the closest Hilton to me.
Search History
Websites that have been visited previously are more likely to show up in the future also as google thinks the content is relevant to the searcher.
Social Networks
Google+ may not be something we all use but it allows google to track who we connect with and shows us relevant content from them.
If somebody shares a circle with you on Google+, their content is pushed to the top of your google searches if it's relevant.
Conclusion
Search Engine Optimization has over 200 factors that are constantly changing and is a beast to master, there's Black Hat and White Hat tactics but hopefully with the factors in this post in mind you'll be able to grow your business with being found by organic search for a long time coming.
Want to improve your organic traffic? Get in contact and see how Aekoi can help you grow.